HANDWRITING:
Tuesday 1st February 2022
Practise your capital letters on the printable worksheet below:
ENGLISH:
Tuesday 1st February 2022
Listen to the story,' Last stop on Market Street.'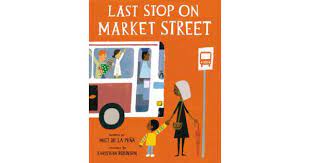 Last Stop On Market Street Christian Robinson Y1 Y3 Y4
This week we are writing our own version of 'Last Stop on Market Street.'
Write these sentences about CJ alking to the soup kitchen.
Crumblingpavements and broken-down doors, graffiti-tagged windows and boarded-up stores.
"'What an unclean place,' thought CJ.
Suddenly, a bright, brillant, beautiful rainbow arched over the city.
PHONICS:
Tuesday 1st February 2022
Click here to sing and join in with the actions to our phonics song – Song of Sounds, Stage 2.
Yesterday we focussed on the 'oo' sound. Can you remember the rhyme and the action for this sound?
oo
The digraph 'ew' also makes the oo sound.
Write the sound and say the sound, then practise writing the following words with the oa sound in them:
new
few
chew
screw
and put each word into a sentence?
WIDER CURRICULUM:
Tuesday 1st February 2022
Take a look at the houses below. Can you draw a picture of a new and an old house? Label it. What is it made from?
2014 Street Dev Pc Old And Modern Homes