HANDWRITING-
Thursday 20th January 2022
Practise your capital letters on the worksheet.
ENGLISH:
Thursday 20th January 2022
Watch the link which tells the story of 'Last Stop on Market Street'.
https://www.youtube.com/watch?v=TUKX6uQ5qsM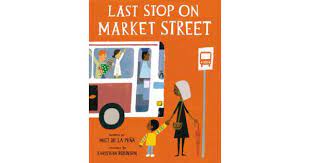 Think about what a soup kitchen might be like. Imagine what sights, sounds and smells there might be.
Describe in a sentence some of the happy sounds CJ might hear.
Eg.CJ could hear happy sounds:the clanking of cutlery;the stirring of soup and the laughter of people.
Why might CJ like working in the soup kitchen? Write a sentence like the one below thinking about what CJ might say.
'Thank you, Nana,' he said. 'I'm glad I came because I like helping people.'
PHONICS-
Thursday 20th January 2022
Click here to listen to Stage 2 Song of Sounds.
Task 1: Use the above link to sing our Song of Sounds song to your grown up, can you remember all of the actions?
Task 2: Click to access the Tricky words that we have been focussing on this week.
Challenge: Can you choose four tricky words and write a sentence for each?
igh
Can you remember the song and action for the 'igh' sound?
How many words can you think of with the 'igh' sound in, remember that your words need to have the correct 'ee' spelling.
Can you choose two of your words and write one sentence for each word.
Now do the same for the 'ie' and 'i-e' sounds.
WIDER CURRICULUM:
Thursday 20th January 2022
Exploring salads
Using your newly learnt skills: peeling, gratng, chopping and slicing, have a go at preparing your own healthy salad.
Thursday Chop Dev Rsh Healthy Salad
Once you have made and tasted your salad , complete the printable  worksheet above.